Property Owned by the Agency
The Fort Dodge Housing Agency owns single-family dwellings, four-plex, and two apartment complexes in the City of Fort Dodge. Rental assistance for these units is available through the Section 8 program. All units are available to rent on the open market.
Units Under Management
The Agency owns and manages two Low Income Housing Tax Credit properties in the City of Fort Dodge: Northridge Apartments and Evergreen Estates. Income limits are calculated at 60% of AMI (area median income):
1 person $29,160
2 people $33,360
3 people $37,500
4 people $41,640
5 people $45,000
6 people $48,360
The Low Income Housing Tax Credit program is governed under Section 42 of the Internal Revenue Code.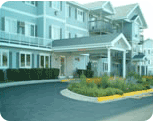 Northridge Apartments
Quality apartment living for those persons age 55 and older who meet income guidelines. These beautiful 1 & 2 bedroom units offer a choice of several different floor plans.
Amenities include: stove, refrigerator, dishwasher, microwave, garbage disposal, emergency pull cords, laundry rooms on each floor, and phone entry system. One building is smoke free. They are located at 2805 6th Ave N and 525 N 28th St in Fort Dodge. To inquire, call (515) 573-5554.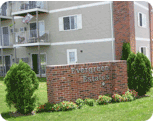 Evergreen Estates
Located in a quiet and scenic environment, this individual/family complex of 1, 2, and 3 bedroom apartments offers secure buildings, playground equipment, on-site manager, and maintenance. Heat, water and garbage are included in rent. Amenities include private patios or balconies. This apartment complex is located at 1543 27th Ave N in Fort Dodge. All applicants must meet income guidelines. Rental assistance is accepted. Call (515) 576-1150 for more information.
Compliance Monitoring
The Agency provides tax credit compliance monitoring and management for the Town Square Apartments, 24-unit complex owned by Northwoods Living in Fort Dodge, Iowa.
Transitional Housing
The Fort Dodge Housing Agency Transitional Housing program will serve families or individuals requiring peer support, case management, and life skills training to transition into the community following a homeless experience. Transitional housing plus supportive services will provide residential living for up to 24 months and bridges the gap between temporary shelter and permanent housing.
A variety of supportive services will be offered, including, but not limited to, assistance in locating transportation, counseling and therapy, licensed child care, parenting and nutrition classes, job skills training, education and employment assistance and the RentWise and the Money Smart course.
The Fort Dodge Housing Agency does not provide immediate emergency housing. The following agencies may be able to assist you in locating emergency housing.
Upper Des Moines Opportunity, Inc - 113 S 10th St, Fort Dodge, IA 50501 (515)955-1386
Department of Human Services - 330 1st Avenue North, Fort Dodge, IA 50501 (515)955-6353
Domestic/Sexual Assault Outreach - (515)955-2273 Crisis: (515)573-8000 Toll-Free Crisis Line 1-888-356-2006
Salvation Army - 126 North 7th Street, Fort Dodge, IA 50501 (515)576-1281
Veterans Affairs - (Wartime Vets) - 330 1st Avenue North, Fort Dodge, IA 50501 (515)576-1561
Webster County Welfare Assoc. - (Eviction Only) - 330 1st Avenue North, Fort Dodge IA 50501 (515)955-6353
YWCA - (Women Only) - 826 1st Avenue North, Fort Dodge, IA 50501 (515)573-2911
Lotus Community Project (Women Only)-515-571-8802-www.lotuscommunityproject.org
Landlord List
For a list of area landlords, visit the Fort Dodge Area Landlords Association at www.fdala.com.
The following programs provide subsidized rent to qualified applicants but are not managed by the Fort Dodge Housing Agency
FHMA - 725 13th Street North, Humboldt, IA 50548
Garden Village Apartments - (Elderly/Disabled Only) - 2736 2nd Avenue North, Fort Dodge, IA 50501 (515)576-5892
Wahkonsa Manor - (Elderly/Disabled Only) - 927 Central Avenue, Fort Dodge, IA 50501 (515)576-6755
Westridge Townhomes - 258 1/2 Avenue M West, Fort Dodge, IA 50501 (515)227-5005